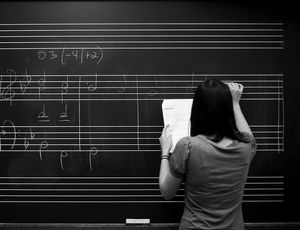 My Philosophy
Being gifted a set of drums at 3 years old, raised in a famiy of jazz musicians and educators, music has paved a path in my life that has defined who I am as an individual. After 20 years of performing and touring, Ive recently changed my focus to both building my studio, and working on my own production and songwriting. Ive been creating a modern teaching curriculum environment that encompasses a new studio technology approach paired with the traditional vocabulary Ive been immersed in most of my life. 
My father built a legacy of one of the most successful music programs in North America at Semiahmoo Secondary. With all his valuable knowledge, wisdom, guidance, and success, Ive taken this gift and paired it with my understanding of current music production and technology, which has given me a way to develop a strong understanding to connect with our youth and help them find their own artistic expression. Im constantly seeking out young, enthusiastic individuals who have a sense of talent, drive, and of course, a passion and love of music. I hope to offer similar opportunities Ive been lucky enough to have myself. 
These lessons also go far beyond the boundaries of just the music, helping develop skills that can be utilized infinitely though-out ones life. 
I hope this page will give you a glimpse inside my unique world, my philosophy, my studio work, and the sonic vibrations I share with anyone and everyone willing to receive and project alike. 
Thank you for entertaining this opportunity and I hope to hear from you soon! 
Warmly, 
Tim Proznick aka Timmy Boom Bap
Baptones Production's at The Space studios
I am currently offering several packages to meet a wide range of levels and needs.

A) The Discovery
These lessons are designed for new students/younger kids - a more Traditional lesson - the student and myself will setup at very minimal kits. With every 4th lesson in the console room ever building/writing tracks to practice too.

$60/hr w/ Audio MP3s of lessons. 
 
B) The Game Changer

Intermediate levels - In these lessons we will get into more exploring sounds on the kit, expanding ideas and musicality, Tones, all with an emphasis on getting sounds in the studio, mic placement & gear knowledge, studio approach, and how to track yourself with getting good sounds from whatever studio set up you've got.
$100/1.5-2 hrs (loose) w/ Video & Audio 
C) The Shed House - Pro level
 
This will  be more or less for pro level players looking to expand vocabulary, thought process, approach, experimenting, and anything else that will help expand your creative mind. These will be 3 hr sessions. Can include tracking drums to songs for your band, shedding ideas for parts on songs, exchanging ideas and working through them. This will also include in depth looks into recording drums, getting sounds, and setting yourself up so you can have more of a solid understanding working in the studio. 
$150/3hrs (loose) w/ audio and video production w/ branding for socials.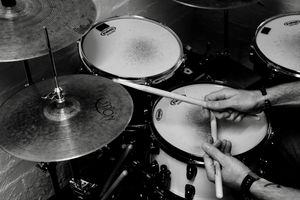 LESSONS or BOOKINGS INQUIRIES